Best Bike Headlight Reviews and Rundowns of Leading Models
Bike lights keep getting smaller and lighter while still delivering bright illumination for cyclist safety. When you're shopping for a new light, ask yourself this: do you want to see or be seen? How about both. The best bike headlight reviews will take you in a little closer, discussing what cyclists had to say regarding a model's performance, cost, functionality and most importantly: battery life.
The Professional Buyer's Guide for Bike Lights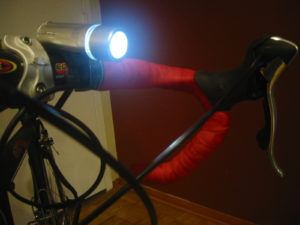 A bike that's well-lit will be equipped with rear, side and front lighting, which will ensure a cyclist's visibility to pedestrians, motorists and other cyclists.
When you're riding after dark, especially on trails that are far away from any type of ambient light source, the bike headlight needs to be a high output system that allows you to see clearly ahead of you.
High output lights are often rechargeable and offer the maximum in illumination. They're usually a little pricey, but significantly brighter than standard safety lights and can really help you to see where you're going on a road or trail in nearly all types of weather and lighting conditions.
Rear, side and front lights will help a driver to see a cyclist in dim lighting conditions. The best ones will also improve the cyclist's visibility during the day. However, these systems often aren't bright enough to help a cyclist to see where they're going at night.
The biggest differences between safety lights involve the mounting options and the number of LEDs and whether they use disposable or rechargeable batteries.
Most bike lights feature durable housing that includes weatherproof gaskets for protection against the elements. You can count on these lights to work well in any type of weather. Before you choose a model you should consider some important factors such as the lumens, LEDs and beam pattern.
Lumens are a unit of measurement that sums up the amount of light that's falling on any given object you wish to illuminate. Lumens are measured at a uniformed distance and describe the type of light intensity you can expect from each unit. Most companies include a lumen rating.
LEDs are a predominant lighting source, due to their durability and energy efficiency. They are also available in a wide range of brightness levels.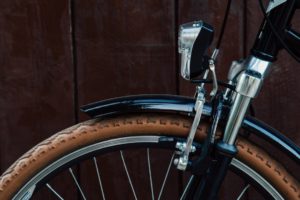 If you ride around well-lit city streets often, you may want to pick a headlight that's equipped with a narrow focus beam. For unlit roads and trails you will want a light that has a wide focus beam because they provide better peripheral vision. It can be difficult for consumers to compare beam patterns, which is why you should read up on best bike headlight reviews and take a look at product descriptions.
When it comes to most lights, the higher the price, the higher the light output.
Systems that are rechargeable utilize lithium ion batteries, which can be recharged hundreds of times.  Lights with these battery systems are an environmentally sound alternative and are relatively inexpensive.
Lithium batteries also dim slowly overtime, unlike traditional disposable batteries and most of them have a low battery warning or fuel gauge. All models of rechargeable batteries have a power light indicator for added convenience. For their weight, lithium batteries offer excellent power. These types of batteries are often characterized by their longer run times and are easy to keep charged, suffering no memory effects.
When charging your batteries, make sure they get fully charged, especially before storage. However, you will also need to avoid overcharging them. Bike lights usually come with a smart charger that automatically stops working once the batteries have reached a full charge. Over time, batteries that are inactive will lose their charge so it's important that you take your batteries and charge up your system before every use.
Battery life will ultimately depend on the power of the system, battery type and LED type.
Flashing bike lights emit an almost startling pulse and use less power than when in steady beam mode. Most models feature a strobe mode. It can be hard to see clearly in this mode after dark, so you may want to use it during the daytime only.
Rechargeable lights are often equipped with multiple setting options. This will allow the cyclist to switch between high intensity light which drains the batteries the fastest, to strobe mode, medium power or low power.
Complete Bike Lighting Systems for Increased Safety
Headlight models are the most important type of bike light you can use for night time riding because they help you to see clearly at night and help motorists to clearly see you. This style of light is mounted onto a helmet or handlebar. You may need to use one light on your helmet and an additional one mounted on your handlebars for off-road riding at night. When mounted on a helmet, the beam can be directed by simply turning your head, for improved visibility.
A rear safety light is mounted on the back of the seat post or on a cyclist's backpack. Some models can also be installed on the back of a bike rack.
Side lights are typically installed on the bike's frame or spokes. Lights that are mounted on the spokes can be especially visible because they clearly display wheels in motion.
A battery pack used for high output lights can be easily attached to a bike considering many have decreased in weight and size. Systems that include quick release hardware will let you remove the light when you're leaving your bike.
Mounting styles will be another major factor when you're choosing a new bike light. There are a variety of mounting options and styles to choose from, some of which are solid and stay put, while others offer less security and don't do much in terms of preventing your light from slipping as you ride.  The two most common types of mounts are clamp mounts and band mounts. Most models use a band mount which allows you to easily wrap the light around the handlebars or seat post, usually without the need of tools. These kinds of mounts are fast and easy to remove and because of this they are ideal for commuting bike lights.
Higher powered lights are usually heavier, so most come with clamp mounts. Clamp mounts offer more security and ride better over rough terrain. Most clamps come with a quick release feature that allows the cyclist to remove the light with ease.
Most models of safety lights are compatible with road bikes that feature aero seat posts, this is accomplished by using more flexible and longer band mounts.
Choosing a Bike Light Based on your Preferred Riding Environment
The kind of light you choose for your bike will ultimately depend on the type of riding you do, in addition to the type of conditions you usually ride in.
If you're taking a ride in a suburban area and the path or road is well-lit, then your priority should be to ensure that you're visible to other road users. This type of light is referred to as a safety light.
If your ride often takes to on unlit paths or roads, choose a more powerful headlight that allows you to be seen and see where you're headed.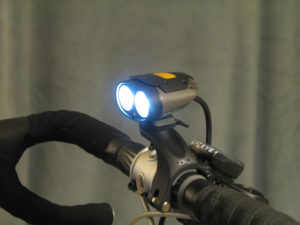 A model over two hundred lumens can cast a beam on the road and offers sufficient lighting for rides on lit paths and roads.
If the terrain you ride on is rough, you'll probably come across many hazards in the road so you'll want something much brighter.
When your ride takes you on unlit paths or roads at higher speeds, then you should consider upgrading the lumen output. Power headlights are vital in order to illuminate the road ahead and can easily pick out animals, potholes and pedestrians. For this type of riding you'll want a light that features a lumen output of around six hundred.
Choosing the right type of light mode can also be important. You should be able to choose from a range of modes based on your surroundings and also be able to manage power reserves for longer rides.
High powered headlights for road riding usually have a concentrated beam so the cyclist can see where they're going while not blinding drivers. The big downside is that they are usually less visible from the side. You can improve side visibility by installing an additional road safety light on the front of your bike and keep it in strobe mode. As we have mentioned, this flashing mode provides a cyclist with more presence on the road. This setting can also help to conserve battery life on longer rides.
When you ride your bike at night it can offer a whole new dimension to your experience. Trails that you're usually familiar with will feel like new routes because they look so much different at night. Choosing a light specifically for off-roading can be tricky and you definitely don't want to use your normal commuting lights, unless they come equipped with impressive lumen capabilities and most just don't.
Because you need more power when riding at night, you'll also need a headlight that either features impressively long battery life, or a lighting system that allows you to purchase additional battery packs. When switched to high power mode a light will last no longer than one to two hours, depending on the model. This can be distressing if you're planning on a long mountain bike adventure.
The last thing you want is to be stuck in unfamiliar territory on your bike in total darkness. Be smart and do your research. If the light you want doesn't offer long lasting power in high power mode can you charge the batteries quickly? Does the light come with its own charger so you can simply plug it in when you're taking a break for a quick power boost? Does the light need to be removed from the mount in order to charge, making a recharge on the road more complicated?
You may also want to look for a headlight that's more versatile and allows you to quickly switch mounting options from a handlebar mount to a helmet mount for improved visibility after dark.
In the last few years, bike lights have become more advanced, making it a little overwhelming to choose a model that's right for your particular style of riding, however, with a little research you should be able to find a headlight that works with your riding, budget and commuting needs.
Bike Headlight Comparison Chart
Philips BF48L20BBLX1 Battery Driven Bike Light Review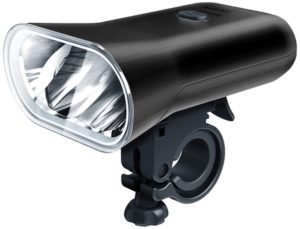 The Philips BF48L20BBLX1 battery driven bike light is equipped with a couple of modes, allowing you to switch to a different mode based on your lighting needs. The eco city mode is less powerful, but perfect for riding in well-lit areas, while the high power mode will allow you to travel safely on unlit roads and remain highly visible to motorists.
Click Here to Read the Philips BF48L20BBLX1 Battery Driven Bike Light Review
Light & Motion Taz 1200 Bike Light Review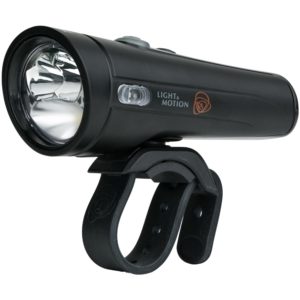 The Light and Motion Taz 1200 bike light is a popular model that's lightweight and comes with an innovative beam pattern that's both wide and even, preventing you from blinding oncoming traffic while also giving you improved visibility out on the road.
Click Here to Read the Light & Motion Taz 1200 Bike Light Review
Nite Rider Lumina 650 Bike Light Review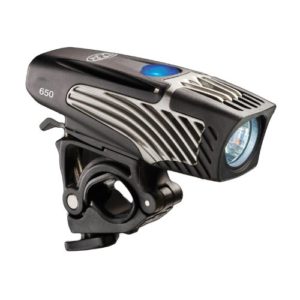 The Lumina 650 by Nite Rider is a popular model that provides more than enough lighting power on unlit roads and paths. It also offers longer battery life and four different light power modes. The light's mounting options are also pretty cool, giving the cyclist the option of mounting the light on the helmet or handlebars. Battery life will range from one and a half hours to an impressive eighteen hours, depending on the power setting you choose. The extensive battery life and power mode options makes it possible for the cyclist to conserve power when needed.
Click Here to Read the Nite Rider Lumina 650 Bike Light Review